Press
Time Out
Simon Cunningham, Matt Donovan, Igor Guelman-Zak, immi, Nikolaj Bendix Skyum Larsen, Matt & Ross, Boris Mikhailov, Andrew Parker, Richard Wilson
Objects of Art

12 July - 8 September 2007
Wednesday-Friday 12-6, Saturday 12-4

Reception for the artists: Wednesday 12 July, 6-8.30 pm

The exhibition Objects of Art at Matthew Bown Gallery considers the relationship between Art and the world of Things in works by ten artists: Simon Cunningham, Matt Donovan, Igor Guelman-Zak, immi, Nikolaj Bendix Skyum Larsen, Matt & Ross, Boris Mikhailov, Andrew Parker and Richard Wilson.

Visual art is bound up with things. Writers don't have much time for things and dispose of them by encoding them in words (naming them). Artists on the other hand scrutinise them and manipulate them and through them attempt a consideration of the human condition. Any object or substance may tell a story, although historically the cynosure of the artist's gaze has been the human body. At the same time, works of art are themselves objects, or at least require some kind of material embodiment. In contemporary art practice, such embodiments are also subject to self-reflexive manipulation, sometimes to the point of destruction.

In Simon Cunningham's film and photowork, both titled Mollymuddle, the artist nurses his own leg in such a way as to suggest that it has an independent existence: from the unity of his body he creates a duality: a Pieta, perhaps, of Beckettian strangeness.

Matt Donovan's works made from smashed double-glazing units push the (art-) object to the point of destruction. They record acts of controlled violence whose fragile aftermath is beauty.

Igor Guelman-Zak's jewel-sized sculptures using teeth, hair and other materials suggest post-apocalyptic or alchemical transformations.

immi's traditionally-crafted paintings of footballs (the icons of our age, perhaps) appropriate the form of the mandala and, claims the artist, they can "release stress and heal". Nina Dimitriadi has suggested they are images of the Big Bang (Dimitriadi N., Immi, The Football Paintings (and Other Canvases), London, 2004, p. 11).

Nikolaj Bendix Skyum Larsen's Fade to Light is a movie erased by the artist, who applied sandpaper progressively to every frame. Both image and soundtrack are degraded to neutral. Larsen's film emphasises the physical encoding of the filmic image.

Matt & Ross's Stunt Complex models of the buildings in their part of London as a putative location for stunts. Shown as an ensemble, the result is an anarchic re-imagining of the experience of a 'neighbourhood'.

Boris Mikhailov's photograph of the condom-strewn turf of a trysting-spot in Marbella is a harsh, ironic image. The bare earth and deflated rubber reliquaries of passion reference what, the night before, were "holiday romances".

Andrew Parker's film December documents the voyage of a raft bearing unwanted goods and set afloat on the English south coast. The raft's hopeless, disintegrating excursion suggests the desperate journeys on home-made vessels made in our times by refugees.

Richard Wilson's work Butterfly is a Cessna light aircraft crushed and then teased and pulled apart again into some kind of semblance of its original vital form. The artist's stop-motion film is a narrative of this painstaking resurrection drama.

Simon Cunningham graduated this year from the Royal College of Art. Matt Donovan lives and works in Portsmouth; he showed at Matthew Bown Gallery in Incidents last year. Igor Guelman-Zak is based in London; he studied in Israel and until last year at Byam Shaw in London. immi lives and works in London. Nikolaj Bendix Skyum Larsen lives and works in London; he has exhibited widely in Europe, including solo shows at Riverside Studios, London, and at the Nordjyllands Kunstmuseum, Aalborg, Denmark. Matt & Ross work in London; they recently curated the show Euro5serie in London. Boris Mikhailov is one of the most celebrated contemporary photographers; he has had shows at the Saatchi Collection and Tate. Andrew Parker graduated this year from the Royal College of Art. Richard Wilson is one of Britain's foremost sculptors; his latest work, Turning The Place Over, is currently in Liverpool.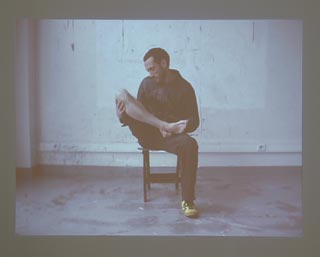 Simon Cunningham, Mollymuddle, 2007. Projected DVD movie, 21' 44".