Matt Donovan, Ana Genovés, Makiko Nagano, Brian Reed, James Richards, Terry Smith, Keith Wilson
INCIDENTS

8 September - 7 October 2006
Wednesday-Friday 12-6, Saturday 12-4

Reception for the artists: Wednesday 10 May, 6-8.30 pm

INCIDENTS is the first in a series of shows presented by Matthew Bown Gallery with the collaboration of the art historian and collector, Thomas Frangenberg. The exhibition, which includes work by new graduates and established figures, juxtaposes modes of experience: physical, perceptual, imaginative.

Matt Donovan creates works from smashed sheets of glass. His pieces embody acts of violence and the paradoxical order and beauty that is their aftermath. Donovan graduated from Portsmouth School of Art; he continues to live and work in Portsmouth. He showed recently in London in "Point Of View" at the Richard Salmon Gallery.

Ana Genovés's sculpture is constructed from rectangular slabs whose concrete surfaces bear the traces of recurrent damage and repair. Entitled Cement Shrine, its true identity is elusive: is it a fragment of a building? a moderrnist altar? and, as a shrine, to what possible creed? Genoves has shown widely in London, including a solo show at The Approach.

Makiko Nagano's photographs of the Japanese coastline explore the limits of perception. Forms struggle to emerge from a suffusing whiteness of sky. Nagano graduated this year from Goldsmiths College; she works in London and Tokyo.

Brian Reed makes objects which incorporate textual elements. Words and phrases, made physical and isolated from context, flicker between two "states". On the one hand, they embody putative meaning, perhaps a critique of consumerism; on the other hand, nostalgia for modernism and the utopia it aspired to. Reed has shown widely in the UK, including solo shows at VTO, Transition and Union Galleries.

James Richards works with film and audio. He presents two provocative sound works, Once black never go back and Once back never go black, in which individual words are excerpted from hip-hop songs and strung together in a new musical monologue. Richards graduated this year from Chelsea College of Art; his film work was shown in Sao Paolo earlier this year and will feature in an international show of work by recent graduates at the Centre for Contemporary Art, Moscow, in October.

Terry Smith's short films Leak and Firework focus on states that are at once repetitive and fleeting. Leak catches the play of light on drops of water. Firework watches a sparkler burn down. In Erotica, a longer work, a series of anonymous voices recount moments of abortive eroticism. Smith works in a variety of media. He has created installations at Tate Modern and shown at the Venice Biennale. Later this year he will be showing video works to accompany the Chris Burden show at the South London Gallery; at MOCA South London; and at the Royal Scottish Academy.

Keith Wilson presents two works. O-Ring, a length of heavy steel chain coiled in a container (almost, but not quite, a cage), suggests notions of control or coercion and the arbitrariness of contingent states. It embodies what Tom Morton has called (in a review of Wilson's work in Frieze) "a muted pathetic beauty" while remaining an obdurate industrial presence. A second, wall-based work, the photographic print Untitled 1210 3004, proposes an imaginative cosmology. Wilson has shown widely in the UK and around the world; his recent London exhibitions include the Gimpel Fils 60th Anniversary exhibition and the Royal Academy Summer Show.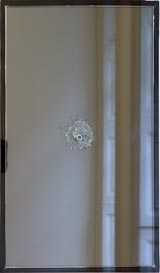 Matt Donovan
Untitled
2006
Glass on aluminium, 70 x 30 cm